For a good start of the day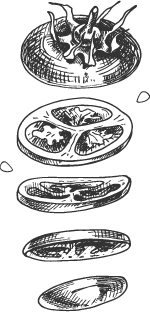 breakfast is served in the buffet style from 8 a.m. to 10 a.m.
you don't have to book it in advance
it is largely based on own and regional products. See our local suppliers.
during breakfast you can order dinner in the formula of a dish of the day and book a table
at breakfast we are at your disposal. If you do not have an idea yet how to spend the day – we will be happy to help. It is also worth using our guide.
Homemade meals from natural products
See our meals prepared in accordance with the slow-food trend, with products from our farm as well as from local farmers and producers.

Dish of the day / Dish of the day separated
if you spend the night in Villa Greta, you can order a dish of the day every day at breakfast
lunches are served from 1 p.m. to 7 p.m. (in summer until 8 p.m.)
the dish of the day consists of soup, main course and homemade compote
you can choose a meat dish or a vege/vegan dish
you can divide the dish of the day into two meals – soup with bread served at lunchtime, and the main course in the evening
at breakfast, book a table or choose the "on demand" option, then you will book a table after returning from the trip
you can also order an à la carte meal in our slow-food restaurant
our cuisine is based on products from the nearest area, in accordance with the idea of slow food – see the list of our suppliers
we do not use flavor enhancers (glutamates, benzoates, etc.)
we also cook vegetarian, vegan, gluten-free, lactose-free and other diets
in the lobby in the main building is a refrigerator available for guests
in the fireplace room you will find an electric kettle and coffee, tea and herbs, which you can use at any time free of charge
you can also order great coffee from the Polish roaster from the pressure machine
reach for beer yourself by writing lines into a notebook (at a special price for overnight guests)
in the restaurant room there are child seats, colorful tableware, a play corner, and a changing table in the toilet
in the old orchard there is a place for a bonfire and barbecue
the restaurant room is available to our guests around the clock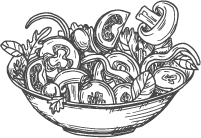 A handful of information about food for guests staying in Villa Greta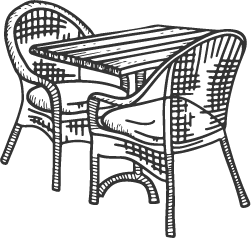 For guests visiting the restaurant
if you do not live in our guesthouse – you can still use the restaurant
we invite you every day from 1 p.m. to 7 p.m. (in summer until 8 p.m.)
we recommend booking a table, especially during weekends or cold weather
in summer there is a lot of space at the guests' disposal in our garden and barns. See where you can eat
for eating a meal at Villa Greta you will receive a stamp to the Explorer's Passport